Posted on : 3/11/2019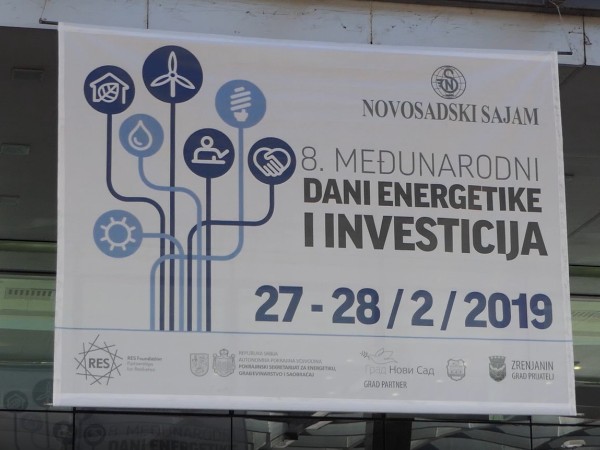 "International Energy and Investments Days" were held in Novi Sad in the period 27-28 February 2019. The event is traditionally organised by the Novi Sad Fair under the auspices of the Vojvodina Provincial Secretariat for Energy, Construction, and Transport, with the participation of numerous partners from the country and abroad.
The United Nations Development Programme and the City of Novi Sad last year signed a Memorandum of Cooperation which includes a series of activities related to introducing the Energy Management System in the City in accordance with the Law on Rational Use of Energy. The key actor in the cooperation between the UNDP and the City in this respect is the Novi Sad Energy Agency, who had a stand at the Fair where the Agency presented to the public the results achieved so far in introducing the EMS. This was also an opportunity to officially award certificates to participants who attended the training for users of the EMIS (Energy Management Information system). The certificates were awarded on 28 March by Miloš Banjac, assistant minister for mining and energy and Rudolf Tot, assistant provincial secretary for energy, construction and transport. A total of 130 users from primary and secondary schools, pre-school institutions, city administration, public and utility enterprises, sub-municipal units, institutions of culture falling under the auspices of the City of Novi Sad received training and developed capacities to collect and enter data into the Energy Management Information System (EMIS). During the certificate award ceremony the assistant minister Miloš Banjac addressed the training participants and briefly presented the energy management information system in local self-government units and reiterated the significance of active cooperation among the great number of end users in collecting and entering data. The same day the Director of the Novi Sad Energy Agency, Aleksandar Ašonja, awarded certificates of appreciation to Maja Matejić, the UNDP Energy Portfolio Manager and Dragan Urošević, UNDP Project Coordinator for the successful cooperation.